St Lucia Fast Track Services
St Lucia Fast Track Service is the perfect add on to your UVF arrival experience because of the luxury to get ahead to a VIP entrance for immigration, baggage claim, and customs. The average time via the normal lines span from one hour depending on the number of flights for the day. Lucian Vibes presents the exclusive St. Lucia Airport Fast Track Services to our valuable customers and provides high-speed, convenient, and smooth transfer through the airport. Customers who book our service of fast track St Lucia airport sandals will get full support from our knowledgeable representative. Our VIP standard service takes the travel hassle out of the St. Lucia tour. The seamless and quick transfer to your destination will make you accept that service of St Lucia fast track is worth it.
As the client's plane lands, our representative is eagerly waiting at the aircraft to escort them straight to the front line of immigration and customs procedure.
What Is St Lucia Fast Track?
St Lucia Fast Track Arrivals
When your plane lands, you will find our representative waiting to assist with the immigration to the customs line. The well-trained representative will provide all the details and contacts to let you easily find your driver waiting outside the airport. Your booked private car or SUV, everything will be just up to the mark as per your expectation. So, there will be no worried regarding roaming around to search for your driver. The brief outline of our St Lucia Airport Fast Track services at arrival is as under:
Welcome you at the aircraft
Escort you straight to the expedited line (COVID screening, Customs, and Immigration)
Assistance with luggage collection
Provide all details about your driver waiting outside
Escort you to your booked vehicle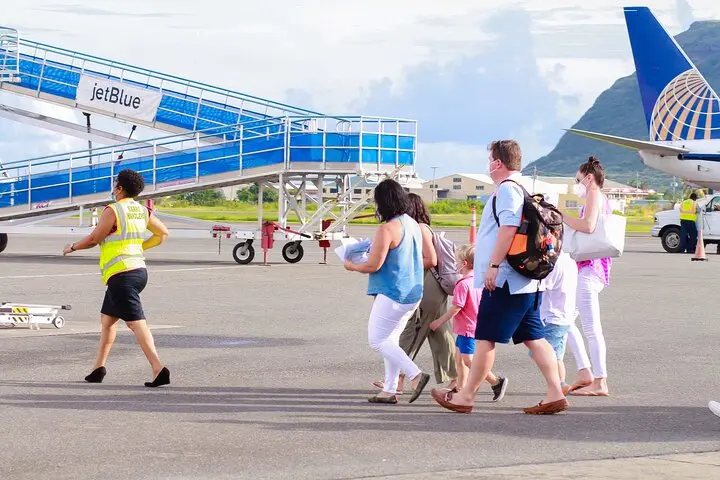 Fast Track Services
St Lucia Fast Track Departure
The UVF Airport in St. Lucia, Hewanorra International Airport, has a heavy crowd of tourists. Therefore, it always seems annoying and stressful to navigate to the airport. Our services have come to rescue the visitor by providing a solution to skip the long lines and get swiftly to check in and immigrations. It removes all traveling stress because we plan to escort you to your flight.  
Relax it's the last few hours before returning to life as you knew it, stretch out and enjoy a fully stocked bar, with a variety of premium liquor and our St Lucian local rum, refreshments, finger foods, snacks, and pre-flight bites.
Get you through the immigration line to the aircraft with ease
Provide expedited service to give VIPs feel
Reduce the overall airport processing time for you.
Avoid long lines and wait time during departure with our personal VIP services and assistance. We are there to assist you from your car to the check-in counter and then to the VIP lounge.
No Hassle
Quick Assistance
Comfort & Style
Fully Stocked bar
Smokers Gallery
Free wifi
Airport Fast Track Services Quote
From your booking request to your departure from our wonderful island, we remove the stress and hassles, leaving you with an amazing travel experience.
From the airport to your booked hotels in St Lucia and back to the UVF for departure, we ensure an incredible traveling experience. Our representatives ensure that each client gets all convenience at the Hewanorra International Airport.
How much does St Lucia Fast Track Cost ?
The cost of the Fast Track Service varies based on your choice of service requested.
Eliminate the hassle of getting through the red tape of the airport and pre-book a fast-track service for your arrival at Hewanorra International Airport (UVF). Meet your representative after clearing Port Health and head to a VIP entrance for immigration, baggage claim, and customs.
This service allows you to spend more time enjoying your vacation and less time in line.
Avoid the hassle of waiting in long lines
Clear immigration and customs with ease
Service is available throughout the day
Start your St. Lucia vacation off on the right foot